BUILDING A HIGH-LEVEL RESEARCH INSTITUTE WITH COMPETETIVE POWER AND INTERNATIONAL REPUTATION
History
Established in February of 1928, of which IAP's predecessor was Institute of Meteorology of Academia Sinica, once located in Nanjing, at that time, the institute was one of the earliest eight institutes engaged in the research of modern natural sciences in China. Prof. Zhu Kezhen, the first director of IAP, was the main founder of modern atmospheric sciences and geographic sciences in China.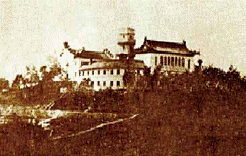 The photos of Zhu Kezhen in the year of 1946 and Beijige in Najing City. The tower building is the meteorological Station.
After the establishment of the People's Republic of China, on January of 1950, Institute of Geophysics, which was proposed by CAS was founded consisting four research fields, namely meteorology, earth magnetism, seismology and geophysics and was officially named as Institute of Geophysics and Meteorology, which was one of the thirteen institutes in Chinese Academy of Sciences. Zhao Jiuzhang was the Director of the institute. In 1966, based on the decision made by CAS, the former climate research division was separated from the Institute of Geophysics and Meteorology, and the Institute of Atmospheric Physics was formally established, consisting five research divisions, namely, lightening and electric physics division, cloud physics division, mesoscale dynamics division, large scale dynamics division, and low latitude meteorology division. Prof. Ye Duzheng, a veteran scientist in the meteorological field, and other famous scientists, like, Prof. Zhao Jiuzhang, Prof. Gu Zhenchao, Prof. Tao Shiyan and Prof. Zeng Qingcun established the Institute of Atmospheric Physics (IAP). Since 2005, Dr. Wang Huijun was appointed as Director General of IAP and from then on, IAP has stepped into the knowledge innovation project stage.
Strategic Areas of Research Focus
Today IAP has become a comprehensive atmospheric research-intensive institution comprising 11 research laboratories, which consists of 2 State Key Laboratories; 3 CAS Key Laboratories, 3 international joint research centers; 1 CAS Research Center: Climate Change Research Center (CCRC); 1 Sub-Center of CAS; and 1 IAP supported research laboratory. All these laboratories are characterized by the features of covering multi-subjects, equipped with advanced basic research facilities, and a gathering of talented individuals who have made great achievements.
With the eighty-five years' development, IAP has cast its net wide and attracted funding, talents and international collaboration, enabling the institute to successively set up the theory of modern weather forecast; East Asia atmospheric circulation; cloud precipitation and weather modification, numerical weather forecast; satellite meteorology, atmospheric observation and related research and technology, mechanism and prediction of the urban and regional air pollution and their effects on the atmospheric environment; evaluation of the trace gases and aerosol concentration, the mass exchange between the biosphere and atmosphere and their effects on the environment and climate air pollution forecast, climate dynamics and climate prediction human behavior and global change. With new vital force, the scientific and technological output has been greatly increased, excellent talent emerges all the time, international co-operations has become prominent; and the institute's creative ability has been enhanced continuously. All these achievements form the strong and stable base for IAP to advance further and develop itself into a world-class research institution.
International Cooperation
IAP has been devoting great efforts to international collaboration and academic exchange. Various agreements and memorandums have been signed with universities and institutions in the USA, EU, Great Britain, Germany, Norway, Finland, Australia, Russia, Republic of Korea, Japan, Thailand, Pakistan etc. And many international cooperative programs are being implemented. Each year, more than 400 IAP researchers go abroad for academic exchange, and more than 500 researchers from abroad visit IAP including world-renowned scientists. High level international conferences and seminars are organized regularly at IAP, providing a platform for international academic exchanges. Besides, many scientists have held important post in the international scientific organizations.
IAP has been consistently dedicated to fostering an open, free and active academic environment through the organization of various academic activities. With the implementation of project collaboration, academic intercourse, advanced academic forums, human resource intercommunion as well as the building-up of a cooperative research center, IAP is able to learn and absorb the advanced experience from colleagues both in China and around the world, and is able to improve its scientific research level as well as its self-innovation, gaining much higher knowledge to its own advantage.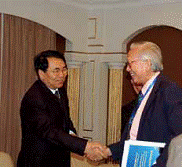 Prof. BAI Chunli, the President of the Chinese Academy of Sciences (CAS) welcomed TWAS member
Graduate Education
IAP has always emphasized the training of high-level talent, and is the cradle for career scientists expertised in atmospheric sciences, oceanic sciences, environmental sciences and engineering, and other related disciplines. Many internationally renowned scholars pursued their career in science after spending their postgraduate years in the institute.
IAP is one of the first CAS institutes that are qualified to grant a master's or doctoral degree approved by the Academic Degrees Committee of the State Council. IAP also operates programs for post-doc and international students. At present, there are 100 doctoral tutors, 70 graduate tutors, 47 doctoral co-tutors, 220 doctoral candidates, 168 graduate students, 12 post doctoral fellows, and 5 international students.
Future Development
IAP currently employs more than 470 staff members, of whom 180 are professors, 120 are associate professors including eight CAS academicians. There are about 400 graduate students and 60 postdoctoral fellows at IAP. Through over eight decades of unflagging effort, IAP has not only made encouraging progress in promoting research at the frontiers of atmospheric physics, but also trained a large number of outstanding scientists and students, contributing significantly to Chinese science, striving to become a high level comprehensive atmospheric research institution with rich heritage, competitive power and international reputation.