The 11th international CTWF workshop on the "Terrestrial Ecosystems under the Changing Climate" was held on September 2-5, 2012 in Beijing.
The main objective of the workshop was to exchange the research progress in the field of terrestrial ecosystem as well as its interaction with climate change, focused on two aspects: (a) Ecosystem structure, functioning, and biodiversity; and (b) Biophysical and biogeochemical processes in terrestrial ecosystem.
During the five plenary lectures, Academician, prof. Bojie Fu (vice-chairman of Scientific Committee of CERN), Dr. Ghulam Rasul (Chief Meteorologist, Pakistan Meteorological Department), Prof. Guangsheng Zhou (Vice President of Chinese Academy of Meteorological Sciences), Prof. Changhui Peng (University of Quebec at Montreal), and Prof. Guanghui Lin (Tsinghua University) provided detailed introduction covering various topics from the development of the Chinese Ecosystem Research Network, impact of climate change on biodiversity, terrestrial ecosystems observation and modeling, to coastal wetlands and blue carbon research. Besides, experts, young research scientists and graduated students from different countries made 31 oral presentations, demonstrated from different aspects the tremendous impact of climatic change, especially the drought and floods, and human activities on ecosystem structure and functioning. Nowadays, the uncertainties exist in the ecosystem observation, theory and modeling researches, which requires closed cooperation among scientists particularly from different developing countries.
There were more than 70 participants attending this workshop, including 19 representatives from developing countries, i.e., Pakistan, Mongolia, Sudan, Ghana, Jordan, Turkey, Ethiopia, Nepal, as well as representatives from developed countries such as Germany, Russia, and Brazil.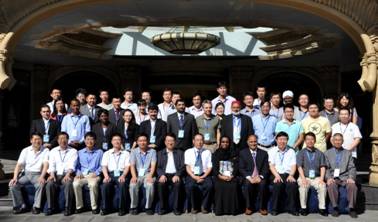 Group photo of representatives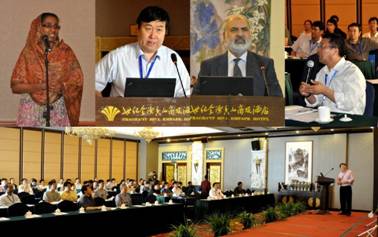 During the workshop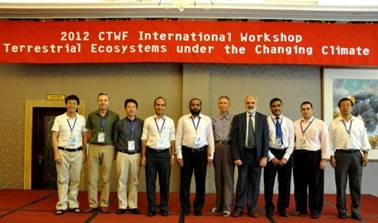 Group photo of representatives and organizers