Nature Geoscience Chief Editor Dr. Heike Langenberg and the manager of Advertising and Sponsorship (Greater China) of the Nature Publishing Group (NPG), Ms.Gloria To visited LASG and IAP on 11 April, 2013. Dr. Langenberg gave a report titled "How to get published at Nature Publishing Group (and Nature Geoscience, specifically)", which provided a brief outline of the content published in Nature Geoscience and discussed alternative options for publication at NPG. As the chief editor of a top-ranking and multi-disciplinary journal, her report attracted participants from China Meteorological Administration, State Oceanic Administration of the People's Republic of China, Peking University, Beijing Normal University, IAP, etc. Some of them have submitted or published articles in the Nature Geoscience.
After the report, the Director Assistant of IAP Dr. Yifen Pu and the Director of LASG Dr. Riyu Lu made a brief introduction of IAP and LASG to Dr. Langenberg and Ms. To. Next, a seminar was held and attended by the Academician Daren Lv, Director of Academic Committee of LAGEO, Dr. Zifa Wang, Director of LAPC and Dr. Zhenghui Xie, Deputy Director of LASG and Ms. To. She has brought NPG's new program of "Nature Web Focus: Environmental Science in China" and wishes to achieve cooperation with IAP members.
Another purpose of Dr. Langenberg's visit is aiming to get more information about research activities and development of "Global Change in China". Two important figures who have involved in global change activities in China, Academician Guanhua Xu, the former minister of MOST and the current chair of the Science Advisory Committee of National Basic Study Programme, and Academician Xiangwan Du, the former vice president of Chinese Academy of Engineering and the current chair of the National Expert Committee on Climate Change have come to meet Dr. Langenberg. Prof. Wu chaired the discussion and introduced global change research in China from four aspects: global change study in Mainland, natural climate background, ecological progress and new path to urbanization. Academician Xiangwan Du made an overview of Chinese energy issues and low-carbon economies. Dr. Langenberg expressed her high appreciation of Chinese scientists' achievements on the global climate change and put forward valuable comments and guidance based on her rich experiences.
On behalf of IAP members, Prof. Guoxiong Wu concluded the discussion and expressed his sincere wishes to have further cooperation with Nature Geoscience, and to see more Chinese scientists having their significant and high-quality research articles published in high- quality journals such as Nature Geosciences so as to enhance the communication with the outside world.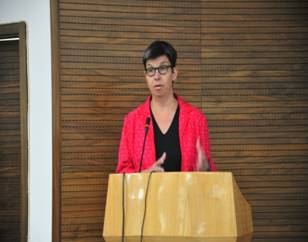 Academician Guanhua Xu & Academician Xiangwan Du          Dr. Heike Langenberg