Climate and ecosystem changes are highly heterogeneous over the globe, with strong regionality. Under combined pressure of climatic change and intense human use of natural resources, the natural environment in Asia has steadily degraded, hence ecosystem services are being affected. Impacts of climate change are especially visible in Asia across different ecosystems, and will likely be intensified in near future. Meeting those challenges requires understanding of the physical science basis of interactive changes of regional climate and ecosystems, consideration of their impacts on all spheres of human activity, and development of policy strategies and actions. Training of young researchers and practitioners with advanced knowledge and skills will enable them to gain capacity for actively contributing to the process of adaptation and mitigation to climate change in their home countries and sub-regions.

The 2014 APN-START International Training on Ecosystem-Climate Interactions held from September 8-20, 2014 at CAS Institute of Atmospheric Physics (IAP) in Beijing aims to provide young researchers and practitioners from Asia countries with advanced knowledge and skills in this fast-moving field, and to enhance the environmental capacity building for regional sustainable development. The training course is sponsored by the Asia-Pacific Network for Global Change Research (APN), and organized by START Regional Center for East Asia (TEA). The training was delivered to 16 international young scholars from 14 Asia countries, including Bangladesh, Cambodia, India, Indonesia, Iran, South Korea, Laos, Malaysia, Nepal, Pakistan, Philippines, Russia, Tajikistan, and Thailand, along with 10 domestic participants from CAS institutes and several universities. Experts from China, Australia, and USA gave state-of-art lectures in the fields.
Prof. JIA Gensuo, the Director of START TEA, coordinated the training program. The event was opened with warm welcome from Prof. LU Riyu, the Deputy Director-General of IAP and Prof. MA Zhuguo, the Director of CAS Key Lab of Regional Climate-Environment for East Asia.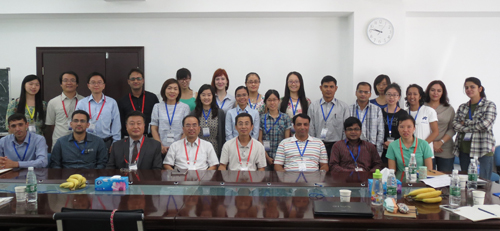 The training program addressed various scientific aspects of interactions between ever changing ecosystem and climate, and focused on coupled climate-ecosystem processes that are critical in the region. Key issues include impacts of climate trends and extremes on natural and managed ecosystems, and their links to food security, water balance, and biodiversity; human driven land use and land cover changes and their effects on ecosystem services and regional climate; science-policy interfaces that address ecosystem-society adaptation and mitigation of climate change. State-of-art tools of climate-ecosystem modeling, remote sensing, and data analysis were provided in the program to demonstrate science solutions to address specific regional issues for sustainable development. The training sessions covered multi-platform observation, trends and impacts analysis, and ecosystem and climate modeling. The curriculum comprises lectures, seminars, science-policy dialogue, along with site visits at CAS RADI satellite facilities, CMA climate research station, and ICSU IRDR international program office.
The program is designed to encourage active discussions between participants and instructors to ensure the prime issues that some of the participants face can be fully addressed in the training. Therefore, dialogue and report writing are also integrated components of the training. In the session of science-policy dialogue, each participant gave a 15-min presentation, and followed by a very active discussion. They were also guided to write a report in his/her field and focus on science-policy interface. Meanwhile, open discussion and interactions between experts and trainees were encouraged throughout the training workshops, and further facilitated with web-based dialogue.
The 12-day training was concluded with graduate ceremony. Mr. WANG Zhenyu, Chief of the International Organization Division, CAS Bureau of International Cooperation, and Ms. ZHANG Lu, the Chief of IAP Research Department awarded certificates to participants. At her speech on behalf of all participants, Ms. Nok Inthavong from Laos was very excited about her new knowledge and skills on the critical regional ecosystem-climate issues and policy implications gained from this training. Participants decided to continue their dialogue via web-based platform facilitated by START TEA.