Prof. LU Riyu, Deputy Director-General of Institute of Atmospheric Physics (IAP), Chinese Academy of Sciences (CAS) and Director of LASG, IAP/CAS, was recently awarded "Minister Prize" by Korean Ministry of Environment (ME) for his outstanding contribution on Sino-Korean collaboration.
ME is the environmental authority of the Republic of Korea, stemming from Pollution Section of the Ministry of Health and Society established in 1967, which was expanded to Pollution Division, in charge of environmental administration, in 1973. Prof. Lu is the second non-Korean scientist being awarded the "Minister Prize" in ME's history. The first non-Korean awardee is Prof. Kenneth Crawford from University of Oklahoma.
Prof. LU's research expertise is climate dynamics, especially in the Asian monsoon system. He studies atmosphere-ocean interaction, tropical-extratropical interaction and the impacts of the global warming and Atlantic Ocean forcing on the Asian monsoon.
Prof. LU been actively involved in organizing many Sino-Korea joint workshops and conferences, including 12 joint workshops between IAP and Korea National Institute of Meteorological Research and he has been a PI of Sino-Korean research projects, including a Major International (Regional) Joint Research Project: Research on the climate variability on the East Asia and western North Pacific. Under the framework of the project, he organized 4 joint workshop on East Asian monsoon climate, facilitated visits of Korean scientists to IAP and sent his students to Korea for cooperative research. Intensive cooperation and collaboration between scientists from two countries resulted in 21 co-published papers with Korean scientists in international peer-reviewed journals.
Prof. LU is also dedicated to international talent training. A Korean PhD candidate supervised by Prof. Lu received his PhD degree from University of Chinese Academy of Sciences in 2014. A Korean Post-Doc is currently working in Prof. Lu's team.
He is also an editor of SCI(E)-indexed international journals including Asia-Pacific Journal of Atmospheric Sciences (Previously Journal of the Korean Meteorological Society), and Advances in Atmospheric Sciences.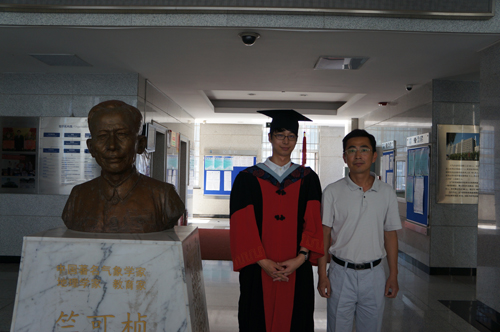 Prof. LU Riyu (right) and his Korean PhD student Dr. YANG Se-Hwan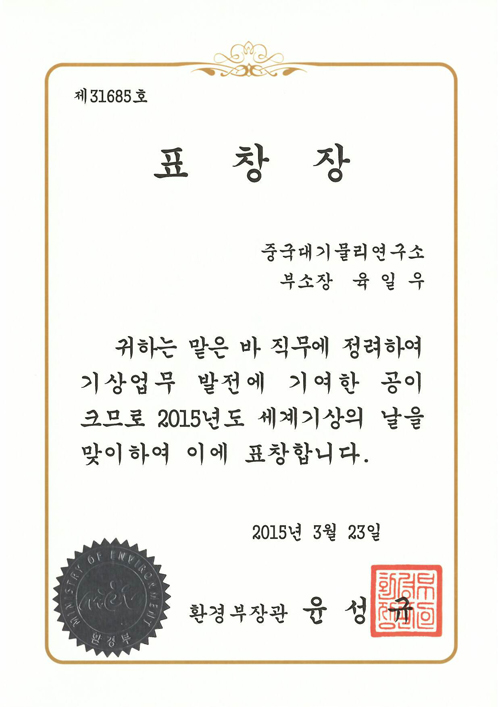 Award Certificate