Inaugural Meeting for the 13th Annual Meeting of Asia Oceania Geosciences Society (AOGS 2016) was held at the State Key Laboratory of Numerical Modelling for Atmospheric Sciences and Geophysical Fluid Dynamics (LASG), Institute of Atmospheric Physics (IAP), Chinese Academy of Sciences (CAS) on 17th September 2015. The meeting aimed to discuss the organization of Local Advisory Committee (LAC) for the AOGS 2016 and the preparations for the AOGS 2016 Program Planning Committee Meeting in Beijing. Prof. CHEN Yuntai, President of AOGS and Adviser of Chinese National Committee for IUGG (CNC-IUGG) chaired the meeting.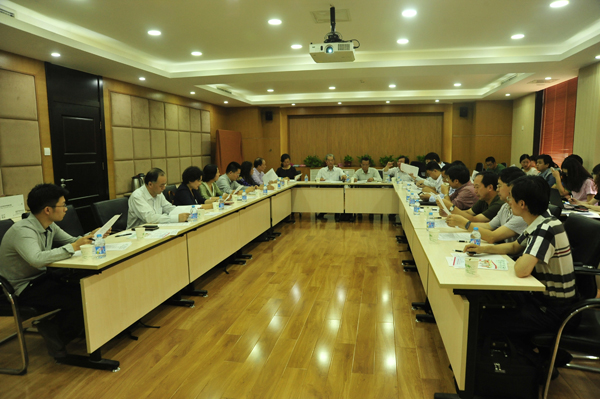 AOGS was established in 2003 and registered in Singapore. It is a nongovernmental organization and formed by like-minded individuals to promote geophysical science and public benefits for Asia and Oceania. Nowadays, Asia and Oceania holds the largest population and is still rapidly developing in the world. There are unique scientific issues to discover and understand in a region that is more diverse than any other regions. AOGS strives to remain in touch with and contribute to the geophysical world community through cooperation with European Geosciences Union (EGU), American Geophysical Union (AGU) and International Union of Geodesy and Geophysics (IUGG). Under the leadership of Academician/Prof. CHEN Yuntai and Prof. WU Guoxiong, CNC-IUGG bidded for and won the hosting of AOGS 2016 in Beijing.
LOC consists of experts from the representatives of 8 associations of CNC-IUGG, AOGS members in China, research institutes, etc. Chair of CNC-IUGG Prof. WU Guoxiong was appointed as the Chair of LOC, Secretary-General of CNC-IUGG Prof. LI Jianping, Prof. DAI Minhan (Xiamen University), Prof. XIA Jun (Wuhan University), Prof. DANG Yamin (Chinese Academy of Surveying & Mapping), Mr. QIN Jiuyi (China International Conference Center for Science and Technology) were appointed as the Vice Chairs.
The establishment of LOC for the AOGS 2016 marks a solid foundation for Chinese scientists involving in the AOGS activities and promotes CNC-IUGG to meet with Executive Committee Members of AOGS and exchanged in-depth views on the further cooperation.