The 4th World Climate Research Programme (WCRP) Global Energy and Water Exchange (GEWEX) project's Data and Assessments Panel (GDAP) meeting brought scientists from China, United States, France, Japan, Germany, Korea, and Saudi Arabia to gather in Xiamen from 29th September to 1st October , 2015. The meeting reviewed progress on the GDAP activities and its sponsored meetings since the last meeting in The Hague, The Netherlands, 2014. and addressed ongoing and new data set quality assessments. In addition, new collaborative activities within GEWEX and WCRP in the context of the WCRP science Grand Challenges and Future Earth was discussed.
Prof. ZHOU Tianjun, Chair of the Local Organizing Committee and Prof. LI Xin, member of the GEWEX Scientific Steering Group (SSG) welcomed the participants and Prof. Graeme Stephens, Co-chair of the GEWEX SSG and Dr. Petrus van Oevelen, Director of International GEWEX Project Office. In the 3 days' meeting, GDAP Panel members made discussion around the meeting objectives. Prof. LU Daren from IAP, CAS, Dr. CHEN Lin from National Satellite Meteorological Center, China Meteorological Administration (CMA), and Dr. SHEN Yan from National Meteorological Information Center, CMA made presentations on "Project APSOS ", " Chinese Fengyun meteorological satellites and their contributions to the space-based GOS ", " Merged Datasets of Rain Gauge and Satellite Measurement over China " , respectively.
GEWEX is an integrated program of research, observations, and science activities that focuses on the atmospheric, terrestrial, radiative, hydrological, coupled processes, and interactions that determine the global and regional hydrological cycle, radiation and energy transitions, and their involvement in climate change. The GEWEX Data and Assessments Panel (GDAP) was organized to bring together theoretical and experimental insights into the radiative interactions and climate feedbacks associated with cloud processes. Key foci of GDAP continue to be the development of accurate radiative methods to account for atmospheric and surface processes, assessments of existing and planned global datasets related to the water and energy budgets, and the coordination of the GEWEX data products.
The meeting is sponsored by the GDAP and hosted by the State Key Laboratory of Numerical Modelling for Atmospheric Sciences and Geophysical Fluid Dynamics (LASG), Institute of Atmospheric Physics (IAP), Chinese Academy of Sciences (CAS). It was co-sponsored by China Association for Science and Technology, Chinese Academy of Sciences and Chinese National Committee for Future Earth (CNC-FE). Dr. Jörg Schulz, Chair of GDAP Scientific Steering Committee, chaired the meeting.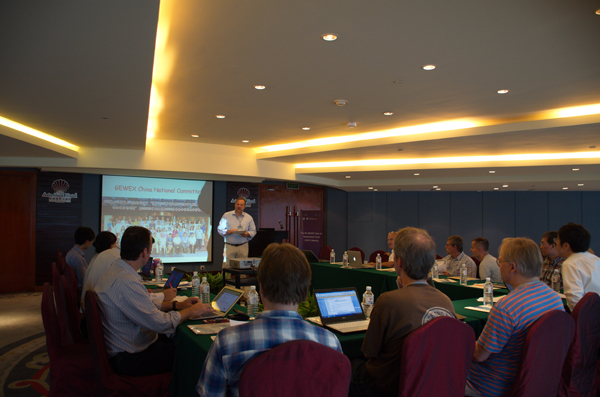 Changes in atmospheric water vapor, precipitation, clouds and aerosols affect the energy balance of the Earth and since these processes are intertwined, they are complex and simultaneous. Attendees all agreed that China should strengthen the collaborations among theoretical and experimental knowledge of radiative processes in and for the study of natural and human-induced climate changes.
More information about GEWEX and GDAP, please see:
http://www.gewex.org/
http://www.gewex.org/panels/gewex-data-and-assessments-panel/
(from LASG/IAP)