Advances in Atmospheric Sciences (AAS), a journal co-published by Springer and Science Press and hosted by Institute of Atmospheric Physics, is delighted to announce a new partnership with the International Association of Meteorology and Atmospheric Sciences (IAMAS)—AAS has become the Associated Journal of IAMAS starting in 2015.
The partnership was proposed by IAMAS during the 26th International Union of Geodesy and Geophysics (IUGG) Assembly in July 2015 and was approved at the IAMAS Executive Committee meeting. Following friendly discussions, a Memorandum of Understanding (MoU) was signed on 20th October 2015 by both parties. According to the MoU, AAS will periodically publish special issues, reports and articles on the work of IAMAS and its commissions, along with relevant research results. AAS will feature the logo and name of IAMAS on the front cover of each issue along with an indication that AAS is the Associated Journal of IAMAS.
The President of IAMAS, Prof. John TURNER from the British Antarctic Survey, said:
"I'm sure our cooperation will be of great benefit to both of our organisations over the coming years. We look forward to a fruitful collaboration with Advances in Atmospheric Sciences."
IAMAS was established in 1919 and is one of the eight associations of IUGG. It provides the scientific community with platforms to present, discuss and promote the newest achievements in meteorology, atmospheric science and related fields. It also facilitates and coordinates research that requires international cooperation. IAMAS and its Commissions organise a wide range of scientific meetings that are open to all scientists.
AAS is an international journal on the dynamics, physics, and chemistry of the atmosphere and oceans. It covers the latest achievements and developments in the atmospheric sciences, including marine meteorology and geophysics, as well as the theoretical and applied areas of these disciplines.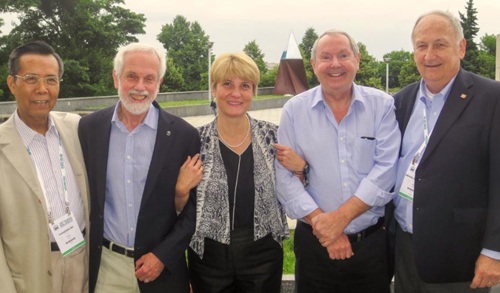 Photo of five IAMAS Presidents taken during IUGG2015 [ From left: Prof. WU Guxiong (2007-2011, also former EiC of AAS), Sir Brian HOSKINS (1991-1995), Dr. Athena COUSTENIS (2011-2015), Prof. John TURNER (2015-2019), Dr. Mike MacCRACKEN (2003-2007)]. Photo courtesy of Maggie TURNER.
Prof LU Daren, the EiC of AAS, introduces AAS to the IAMAS Executive Committee. Photo courtesy of Zheng LIN.