When the world leaders gathered in Paris last week at COP21 to address Climate Change---probably the biggest challenge human being faces in the 21st Century---Chinese scientists' voice was also heard. On 1 Dec. 2015 in Paris, the Chinese National Committee for Future Earth (CNC-FE) held a side event entitled "Climate Change and Resilience: Co-design for Urbanization in China" during COP21. The side event iterated China's active response to climate change and coordinated efforts in building more resilient and greener cities so as to achieve ecological progress. CNC-FE vice Chair Prof. WU Guoxiong from the Institute of Atmospheric Physics, Chinese Academy of Sciences (IAP/CAS) chaired the event. Around 80 COP21 accredited participants attended the event.
On behalf of CNC-FE, Prof. WU presented the outcome statement from international symposium on co-design for urbanization in China and Asia-Pacific region held in Xiamen in November and a Chinese version of Future Earth Future Earth Strategic Research Agenda 2014 to Future Earth communication coordinator Ms Lizzie Sayer. Ms. Sayer expressed thanks to CNC FE on behalf of Future Earth Executive Director Dr. Paul Shrivastava, saying that CNC-FE efforts in co-design and co-delivery are very impressive and exemplary.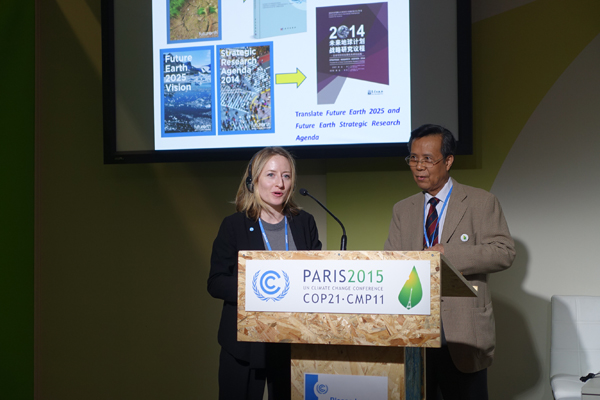 CNC-FE chair Prof. WU Guoxiong presented Chinese translation documents to Future Earth Representative Ms. Lizzy SAYER(Photo Courtesy: ZHAO Bo)
5 invited speakers from different disciplines gave keynote talks centering on low carbon development and urbanization and disaster mitigation. CNC-FE vice chair Prof. DU Xiangwan from Chinese Academy of Engineering, gave a talk on China's energy transition to low carbon development. Dr. WANG Mou from Chinese Academy of Social Sciences analyzed different challenges and opportunities admits China's fast urbanization. Prof MU Rongping from the Institute of Policy and Management of Chinese Academy of Sciences emphasized in his talk that innovation to establish a high quality, low cost and wide coverage public service system should be the main driving force for shaping future pattern of urbanization. Dr. HUANG Lei from National Climate Center of China Meteorological Administration introduced China's practices in addressing Climate Change and Disaster Risk Management. Based on orderly adaptation strategy proposed by forerunner of China's meteorology Prof. YE Duzheng, Prof. Qian Ye further analyzed the relationship between sustainable development in temporal dimension and resilience in spatial dimension.
Questions from the audience (Photo Coutesy: WANG Chuanyi)
In the following Q&A session, Chinese scientists have good various questions regarding the theme were raised by attendees from different NGOs and universities and were well answered.
Prof. WU conclude in his closing remarks that the experiences China has in co-designing the framework of Future Earth in China and promoting transition to the sustainable development could be useful to other countries and regions because we are facing similar problems. He further called on closer cooperation among Asian and Pacific regions.
The side event was hosted by CNC-FE, also the China Association of Science and Technology (CAST) working group for UN Environment Consultation. The secretariat of CNC-FE is located at the State Key Laboratory of Numerical Modelling for Atmospheric Sciences and Geophysical Fluid Dynamics (LASG), Institute of Atmospheric Physics, CAS and was also sponsored by CAST.