When the world cheers for "the first universal agreement in history on climate change", as commented by French President Francois Hollande, on 12 Dec. 2015, the CAS Carbon Project has also made its debut in the 21st Conference of the Parties (COP 21) to the United Nations Framework Convention on Climate Change (UNFCCC). A full-wek exhibit and a side event on 10 Dec. 2015 marked the successful showcase of the CAS studies on carbon budget in the COP.
CAS launched a five-year Strategic Priority Program on "Climate Change: Carbon Budget and Related Issues" (CAS Carbon Project for short) in 2011 to fulfill the needs for addressing climate change and to seek an optimized approach for sustainable development in China. The Program is aimed at tackling a series of cross-cutting issues via joint participation across multiple disciplines. In particular: the quantitative verification of the total terrestrial carbon budget of China; identification of potential for creating/strengthening carbon sinks; improving technologies and methods involved in the creation and strengthening of carbon sinks, as well as reducing the time it takes to achieve the end result; and the uncertain relationship between future global warming and concentrations of greenhouse gases (GHGs).
The CAS Carbon Project decided to demonstrate its nearly five-years' studies at the COP21 and applied for an exhibit booth via China Association of Science and Technology, which has an UNFCCC observer status.
Using posters and videos, the one-week booth presented what CAS has achieved in measuring carbon emission, investigating carbon sequestration in China and understanding climate warming in China. The booth has attracted attentions from the COP participants and media since the first day. The PI of CAS Carbon Project, Prof. Daren Lu, and other project members answered questions including: will China be able to reach carbon emission peak by 2030 as promised? How will China reduce carbon emission? What can the first China carbon satellite do?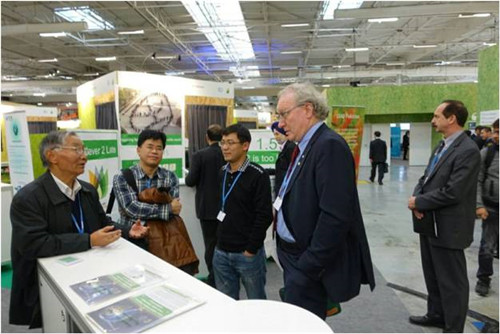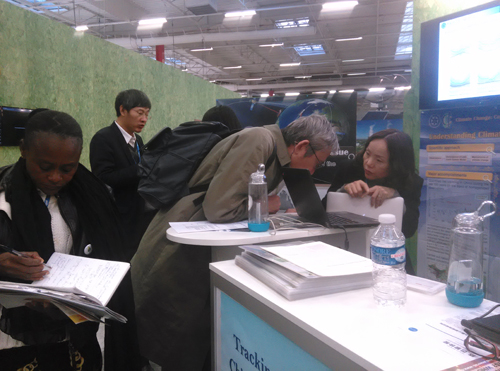 The CAS Carbon Project booth is frequented by visitors and media. (Photo Courtesy: LIN Zheng)
One month before COP21, National Development and Reform Commission also assigned two hours to the CAS Carbon Project for organizing a side event at China Pavilion. On 10 Dec., 2015, the side event titled "Tracking Carbon Footprint—Chinese Scientists at the Forefront" was held in China Pavilion at COP21. After Prof. LU Daren introduced the CAS Carbon Project, Dr. ZHOU Guoyi from CAS South China Botanical Garden, Dr. LIAO Hong from CAS Institute of Atmospheric Physics (IAP), and Dr. WANG Yi from CAS Institute of Policy and Management talked on carbon sequestration in China's terrestrial ecosystems, improved understanding of climate warming in China and Green low-carbon development strategy for China, respectively. The side event was chaired by LIU Yi from IAP.
CAS experts at the side event (Photo Courtesy: LI Yan)
The side event attracted nearly 50 COP21 participants and media from home and abroad. During the panel discussion, the CAS experts discussed with the audience on burning issues in addressing climate change, including China's first carbon satellite, 2 degree temperature rise, and carbon market in China.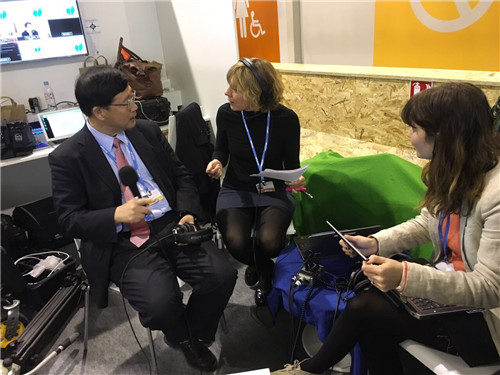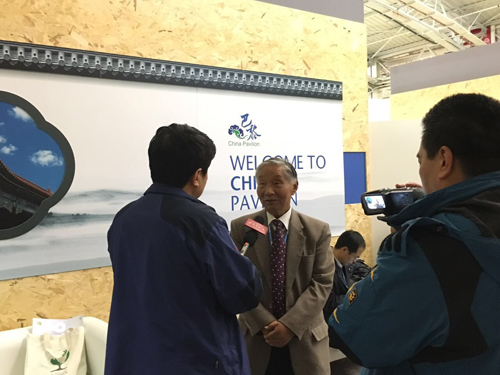 Interviewed by the media (Photo Courtesy: TAN Xianchun)
During the one week in COP21, the CAS Carbon Project experts were interviewed by more than 15 media and press, including China Science Daily, Beijing TV, Reuters, France 24, Societie Radio Canada, Swedish National Radio, among others. Chinese scientists' voice on carbon budget was conveyed to the world wide and far.