Representatives from European Space Science Committee, European Science Foundation (ESSC-ESF) visited Institute of Atmospheric Physics (IAP), Chinese Academy of Sciences (CAS) on 17 March 2016 to explore the potential cooperation between IAP and ESSC-ESF.
ESSC-ESF Representatives include Dr. Athena COUSTENIS (Chair of ESSC/ESF and also the Past President of International Association of Meteorology and Atmospheric Sciences, IAMAS) , ESF Chief Operating Officer Dr. Jean-Claude WORMS and ESSC Secretary-General Dr. Nicolas WALTER.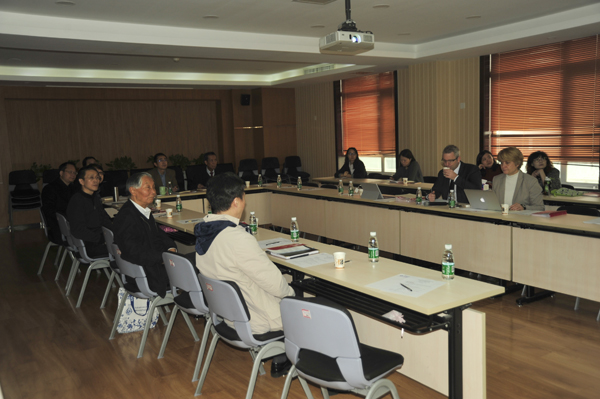 Meeting between ESSC-ESF and IAP (Photo Courtesy: WANG Jun)
ESSC is one of the expert boards and committees of ESF which was established in 1974, as a means to give European space scientists an independent voice in the space arena. It has collaborated with the Committee on Space Research (COSPAR), National Space Science Center of CAS, etc. "There's an earth science discipline in ESSC and this may be the focal point for collaboration with IAP. The ESSC encourages countries to reduce their emissions in order to avoid dangerous anthropogenic interference with the climate system, which could lead to disastrous consequences. " explained Dr. Athena COUSTENIS .
Deputy Director-General of IAP Prof. LU Riyu and Director of LASG / IAP Prof. XIAO Ziniu introduced IAP and LASG respectively. CNC-IAMAS Chair and Editor-in-Chief of Advance in Atmospheric Science (AAS) Prof. LYU Daren reviewed CNC-IAMAS and AAS activities, and introduced Chinese efforts in space-based observation Including China carbon satellite, Tiangong2/UV Limb Sounder, Atmospheric Profiling Synthetic Observation System and Lagrange Earth Observatory.
Both ESSC/ESF and IAP agreed that the meeting was fruitful and there were great cooperation potentials in space-related project proposals, external reviews and publications.
For more information about ESSC, please visit the website of www.esf.org/space and www.esf.org/essc .