The coordinating meeting of UK-China major international cooperation research program "Air Pollution and Human Health in Beijing (AHHB)" was held in Beijing from 17th to 18th March 2016. The Program was jointly funded by the National Natural Science Foundation of China (NSFC), the Natural Environment Research Council of UK (NERC), and the Medical Research Council of UK (MRC). The Program partnership involves both UK universitis (University of Cambridge, University of Birmingham, University of Manchester, University of York, University of Edinburgh, University of Leeds) and Chinese universities and institutes (University of Reading from UK, and Tsinghua University, Peking University, China University of Mining &Technology- Beijing, Guangzhou Institute of Geochemistry, Anhui Institute of Optics and Fine Mechanics, and Institute of Atmospheric Physics, Chinese Academy of Sciences).
Under the umbrella of the program, five projects were officially launched in November of 2015. The purpose of the meeting was to discuss and prepare the field observational campaign involved in project 1 (Sources, Emissions, Fluxes and Receptor Modeling of Air Pollutants in Beijing) and project 2 (An Integrated Study of Air Pollution Processes in Beijing). More than 50 researchers of 13 research institutions from UK and China attended the meeting.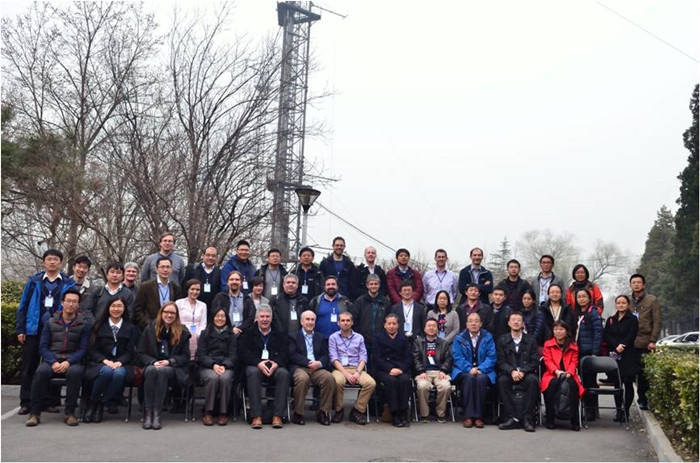 The coordination meeting was co-chaired by Prof. FU Pingqing from IAP and Prof. Zongbo SHI from University of Birmingham. Prof. WANG Zifa, the director of the State Key Laboratory of Atmospheric Boundary Layer and Atmospheric Chemistry, welcomed the meeting attendees. Researchers from UK and China have been assigned different tasks of field observations and theoretical studies, including three dimensional spatial analyses, receptor modeling, emission quantification, top-down fluxes inferred from satellite data, chemistry-transport modeling, oxidation chemistry, nitrogen budgets, aerosol physical and optical properties, secondary aerosols, urban meteorology, and feedbacks between haze and photochemistry/ dynamics.
The attendees discussed and coordinated site location, implementation scheme, and logistics of the observational campaign in winter of 2016 and in spring and summer of 2017. The meeting is essential to the observational campaign in the AHHB program.