On April 8, Wiley Vice President Ms. Miriam MAUS and Wiley Associate Director Mr. Jason HU visited the Institute of Atmospheric Physics to present a certificate of appointment to Prof. ZHOU Tianjun in person. Prof. ZHOU has become the Associate Editor of the International Journal of Climatology (IJOC) upon the invitation of the Editor-in-Chief of IJOC, Dr. Radan HUTH (Charles University in Prague), since 1 April, 2016.
Wiley Vice President Ms. Miriam MAUS presented Prof. ZHOU Tianjun (left) IJOC AE Certificate (Photo Courtesy: WANG Jun)
Miriam MAUS congratulated Prof. ZHOU on his appointment. She reckons that Prof. ZHOU's appointment diversifies the editorial board of IJOC and that IJOC expects to attract more up-to-date research in climatology, meanwhile presenting more findings of Chinese climatological studies to the world. Prof. ZHOU introduced the advances of IAP in the field of climate change, in particular climate modelling. He also made constructive suggestions, especially on involving excellent young scientists in reviewing manuscripts. They had a fruitful discussion regarding soliciting contribution, refereeing process and editorial international cooperation.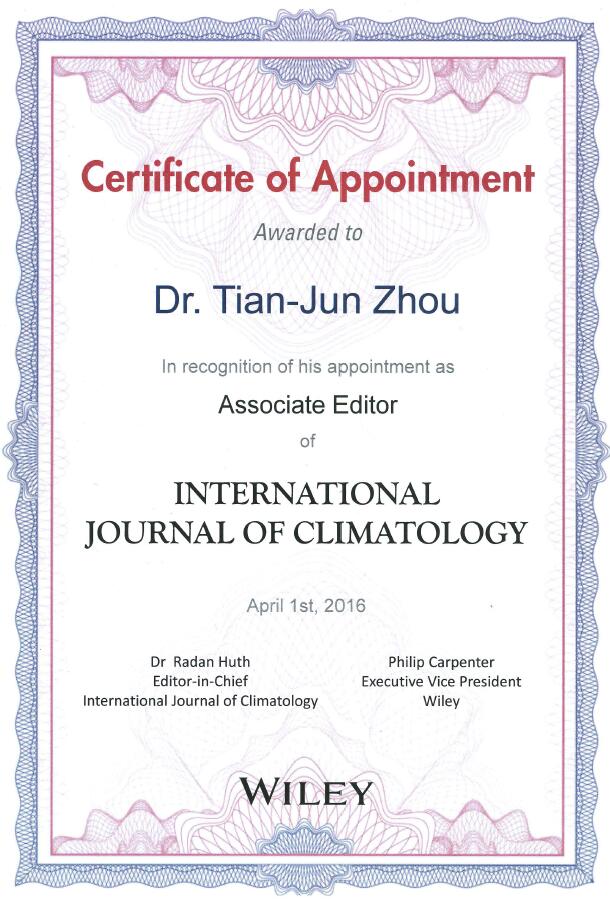 Wiley Certificate
IJOC is a peer-reviewed scientific journal publishing research in the field of climatology. Established in 1981, the journal is published by Wiley-Blackwell on behalf of the Royal Meteorological Society of the United Kingdom. IJOC is a well-received journal in climatology community. The annual submission to IJOC and the impact factor are steadily on the rise. According to the Journal Citation Reports, the journal has a 2014 impact factor of 3.157.
Prof. ZHOU's research interests include coupled atmosphere-ocean modeling and climate dynamics, East Asian climate change and climate variability, air-sea interaction and monsoon predictability. He has published about 190 papers in international SCI(E) journals. He was on the list of Elsevier Most Cited Chinese Researchers in 2014 and 2015. He is currently the Assistant Director of IAP, the Deputy Director of Sate Key Laboratory of Numerical Modeling for Atmospheric Sciences and Geophysical Fluid Dynamics, and Deputy Director of Climate Change Research Center, Chinese Academy of Sciences.