Four-month observation campaigns organized by Storm973 Project "Dynamic-microphysical-electrical processes in severe thunderstorms and lightning hazards" were wrapped up in early October 2016 in Beijing and Shandong. About 40 participants from Institute of Atmospheric Physics, Chinese Academy of Sciences (IAP, CAS), Institute of Urban Meteorology, China Meteorological Administration (IUM, CMA), Nanjing University of Information Science & Technology, and Chengdu University of Information Technology participated in the experiments.
Observation in Beijing aimed at the occurrence of thunderstorms around the metropolitan area of Beijing-Tianjin-Hebei, focusing on the characteristics and mechanisms of dynamic-microphysical-electrical processes during the thunderstorm development. A 16-station "Beijing Lightning Network (BLNet)", and two X-band dual-polarization Doppler radars, four raindrop spectrometers and two high speed video cameras were used for the coordinated observation. By October 1st, a total of 49 thunderstorms were observed, including 1 sudden hail process, 8 squall line processes and 12 meso-γ scale thunderstorm clusters. The lightning location results and radar data were transmitted to Beijing Meteorological Bureau in real-time, serving the monitoring and early warning of the severe convective weather events in north China.
SHAndong Triggering lightning experiment focused on physical mechanism of lightning discharge and the resultant hazards. A total of 5 lightning flashes were triggered, though the suitable thunderstorms over the observation site were fewer than average. Simultaneous data including channel base current, electro-magnetic fields at different distances and high speed optical data were obtained. This year, a 7-station lightning location network was established, and Balloon-borne E-fields and meteorological parameters soundings inside thunderstorm was also carried out at the first time. Cooperated with some research institutions and universities, detection of high-energy radiation from lightning at close range and evaluation on lightning damage to electronic equipments were also conducted. In addition, the platform was open to the lightning protection enterprises for testing the new grounding and overvoltage protection technologies.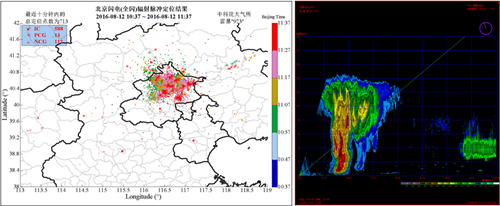 The left panel: A real-time two-dimensional location results of radiation pulses of lightning in the metropolitan area of Beijing-Tianjing-Hebei, for one hour at August 12, 2016. Six different color indicates six time intervals of 10 minutes in one hour. • represents the Intra-Cloud (IC) pulse, + represents the pulse of Positive Cloud-to-Ground (PCG) stroke and × represents the pulse of Negative Cloud-to-Ground (NCG) stroke.
The right Panel: Radar detection of the super-cell thunderstorm, the dynamic structure and its development of the storm can be explored and extrapolated according to the Range Height Indicator (RHI) scans. Two radars, equipped in IAP and Shunyi District, respectively, worked together to get better understand of the storm dynamic structure. (Credit: IAP)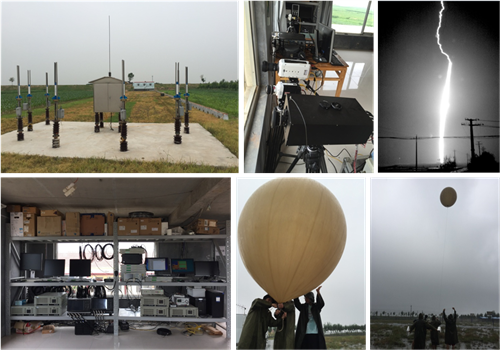 (a) Rockets and the launcher in lightning-triggering site, with the current sensors equipped in the faraday cage in the middle.
(b) High-speed optical instruments at the main observation site, 970 m away from the rocket launcher.
(c) A photograph of the trigged lightning flash.
(d) Data recording system of electro-magnetic field measurement systems at the main site.
(e), (f) Inflating the balloon for the release of sounding system. (Credit: IAP)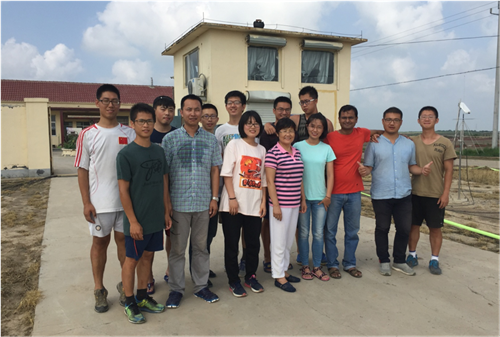 Participants in the SHAndong Triggering lightning experiment, Zhanhua, Shandong Province, 2016 Summer (Credit: IAP)