American Geophysical Union (AGU) held an Author Workshop at IAP on 14 October 2016. The AGU delegation includes Frank Krause (Chief Operating Officer of AGU), Brooks Hanson (Director Publications, AGU), Mark Moldwin (EiC of Reviews of Geophysics), Minghua Zhang (EiC of JGR Atmospheres), and Andre Revil (Editor, JGR Solid Earth).
The AGU delegation was welcomed by Prof. Riyu Lu, the IAP Deputy Director-General. Frank Krause first introduced AGU and benefits of publishing with AGU. Editors of AGU journals then talked about how to write and submit an effective manuscript; how the peer review process works; how to be a reviewer and write good reviews. Minghua Zhang then gave a talk on "sensitivity of climate models and cloud-radiation feedbacks".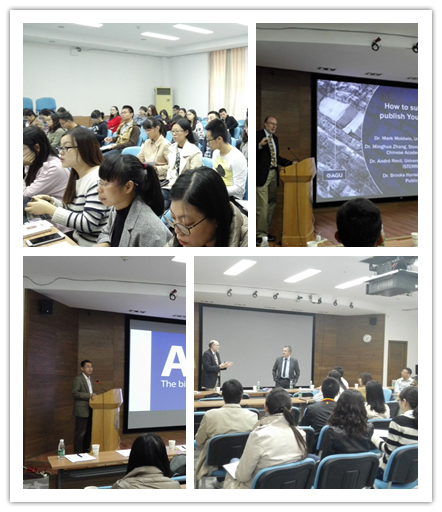 Questions from IAP faculty and students were answered by the AGU delegation. The workshop was chaired by Brooks Hanson.