Honorable State Minister Lakshman Senewiratne, Ministry of Science, Technology and Research, Sri Lanka, also a member of the Sri Lankan parliament, visited the Institute of Atmospheric Physics (IAP) and the CAS-TWAS Centre of Excellence for Climate and Environment of Sciences (ICCES) on April 20, 2017. Prof. ZHU Jiang, Director General of IAP, briefly introduced the Research on Sustainable Development among the Belt & Road countries, and expressed his sincere hope to pursue further collaboration with Sri Lanka based on the its practical needs in regard of atmospheric sciences and technologies.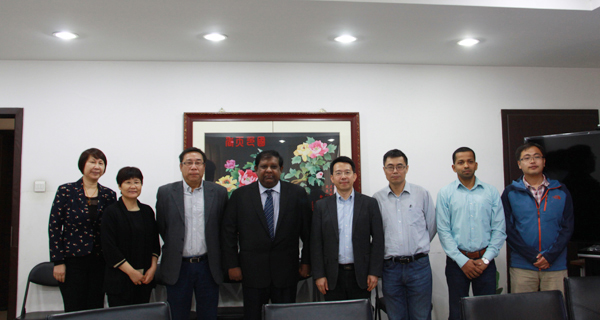 China-Sri Lanka cooperation on mitigation and pre-warning of climate and weather hazards (Image by IAP)
In response to Prof. ZHU's remarks, Honorable Lakshman Senewiratne underlined the purpose of his visit, which is to seek bilateral cooperation with IAP in an effort to meet the local challenges in the field of extreme meteorological and hydrological events including lightening, thunderstorm, rainstorm and flood.
For the past three decades, there has been a sudden increase in the occurrence frequency of rainstorm, flood and thunderstorms, which has significantly impacted the daily life of people, the agriculture and infrastructure. It is of vital importance to the sustainable development of Sri Lanka that the mechanism of the upsurge of the extreme events can be explained, and the mitigation measures can be adopted to reduce the loss, according to Honorable Lakshman Senewiratne.
Prof. LIN Zhaohui, director of ICCES, presented the cooperation activities between ICCES and Sri Lanka for the last 3 years, which includes science and technology collaboration, scientists exchange and training activities, with a particular emphasis on the international joint research on the extreme hydrological events of the Mahaweli riverbasin of Sri Lanka. Prof. QIE Xiushu Qie, an expert in thunder and lightening, gave a brief overview on IAP's research progress of thunder and lightening and the technologies on disaster reduction.
Honorable Lakshman Senewiratne expressed his high appreciation of the statistical analysis and prediction results of Sri Lankan extreme events presented by IAP, and he also spoke highly of the lightning monitoring and alert system, as well as the defense technology equipment. These science and technology research achievements are what Sri Lanka need at this stage, according to Honorable Lakshman Senewiratne. He will pass on the information to the Sri Lankan President who is to visit China to attend the Belt& Road Summit this May.