A Memorandum of Understanding (MOU) for scientific cooperation was signed between the Institute of Atmospheric Physics, Chinese Academy of Sciences (IAP. CAS) and City University of Hongkong (CityU HK) in Yunnan on Aug.22, 2017. Prof. ZHU Jiang, Director General of the IAP.CAS and Prof. Way KUO, CityU President joined the meeting, Prof CHEN Wen from IAP and Prof. Johnny CHAN from CityU jointly signed the agreement.
The IAP and CityU teams had a discussion on the recent development of IAP-CityU Joint Lab, and both sides desire to undertake further collaborative research activities for the mutual benefit of both parties. Both parties wish to work together to explore the strategic relationships in research and development in the area of Asian Monsoon, atmospheric environmental research , climate change and interdisciplinary research on global changes. At the same time, both parties want to develop a new model on joint training of graduate students.
The IAP-CityU Joint Lab was founded in 2006, and nominated as CAS-HK joint Lab in 2008. From then on both partied jointly apply for many national key programmes and fund, also get fruitful research achievements as well.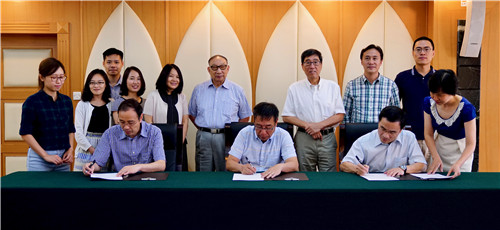 Signing Ceremony (Image by IAP)
IAP/CAS and CityU established the Joint Laboratory for Atmospheric Science Research in 2006. Since then, collaboration has continued in the areas of monsoons and tropical cyclones, including successful application of various Mainland and Hong Kong grants and publication of numerous papers in high-impact factor journals. This new agreement will extend the collaboration to other areas such as atmospheric environment, climate change and interdisciplinary subjects related to global change. In addition, the possibility of joint PhD programmes will be explored.