On Sept 28, 2017, the Joint Scientific Committee (JSC) for the World Climate Research Programme (WCRP) appointed Prof. CHEN Wen from Institute of Atmospheric Physics (IAP), Chinese Academy of Sciences as a member of the Scientific Steering Group of the WCRP Core Project on Stratosphere-troposphere Process And their Role in Climate (SPARC), at its 38th session in Geneva. Prof. CHEN's 3-year office term will start on January 2018.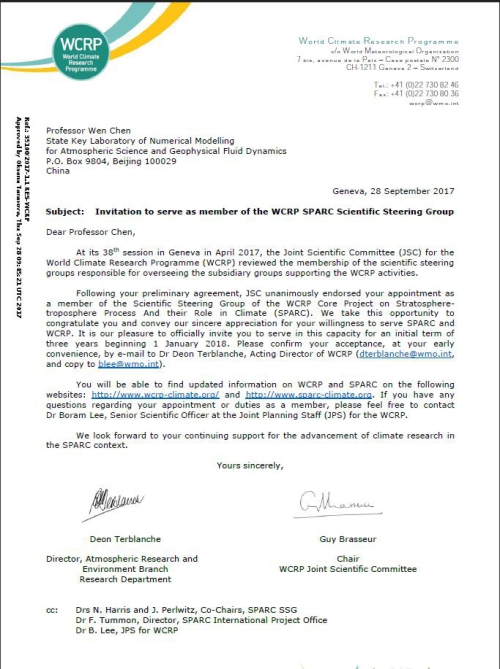 The appointment letter sent by WCRP
SPARC(Stratosphere-troposphere Processes And their Role in Climate) plan is one of the four key science plans of WCRP, and it was started on 1992, SPARC is dedicated to promoting the understanding of the earth system processes and coordinating high level scientific research activities. The achievements have made important contributions to many international assessments.
Prof CHEN is the director of Center for Monsoon System Research at IAP and the director of the IAP-CityU(Hong Kong) Joint Lab for Atmospheric Science Research. His research interest includes dynamic coupling between stratosphere and troposphere and climatic effects on tropical stratospheric periodic oscillation.