On Jan 8 2018, the State Council gave awards to individuals and institutions that made huge scientific contributions to China's technological progress, economic and social development and modernization of national defense.
Approved by the State Council and signed by President Xi Jinping, a total of 271 projects were honored with national prizes, including 35 for the state natural science award, 66 for the national technological invention award and 170 for the national science and technology (S&T) progress award.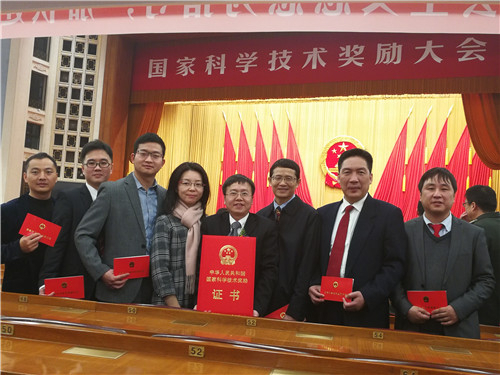 The research team was awarded in the Great Hall of the People
The project "Independent development and application of Nested Air Quality Prediction Modeling System(NAQPMS)" led by WANG Zifa, ZHU Jiang, LI Jie and TANG Xiao from Institute of Atmospheric Physics, CAS won the second prize of national S&T progress award in 2017. The team innovatively developed a multi-pollutant and multi-scale air quality forecasting model (NAQPMS), which provides full scale and nested coupling operational forecast results of global, regional, urban and urban complex pollution. NAQPMS directly supports the establishment of the air pollution forecasting and early warning system in China, and has became the core forecasting tool of more than 40 business platforms, including the national environmental quality forecast and warning center, Beijing-Tianjin- Hebei Region, the Yangtze River Delta and the Pearl River Delta, etc. The achievements of the project have broken the bottleneck of the development of the regional atmospheric compound pollution forecasting model, and made leapfrog development of the air quality forecast and early warning level in China.
Other cooperation organizations to complete the project included China National Environmental Monitoring Centre, Beijing Municipal Environmental Monitoring Center, Guangdong Environmental Monitoring Center etc.