As part of celebration of IAP 90th anniversary, Prof. Sir Brian Hoskins from Imperial College London/University of Reading, UK was invited to visit IAP on Oct 8-9, 2018 and deliver a lecture.
Prof. ZHU Jiang, the Director General of IAP chaired the seminar on Oct 8, which was attended by more than 200 scientists and students. After a brief introduction, he extended warm welcome to Prof. Hoskins. Prof. Hoskins gave a lecture entitled "The Annual Cycle of the Northern Hemisphere Storm-Tracks". He introduced the seasonal and monthly evolution of the N. Hemisphere storm-tracks in detail and contrasted the two major oceanic storm-tracks. The lecture aroused great interest among participants and led to active interaction.
On Oct 9, Prof. Hoskins visited the State Key Laboratory of Numerical Modeling for Atmospheric Sciences and Geophysical Fluid Dynamics (LASG) and had in-depth discussion with Prof. LIU Yimin's research group, which focused on potential vorticity, monsoon and ENSO.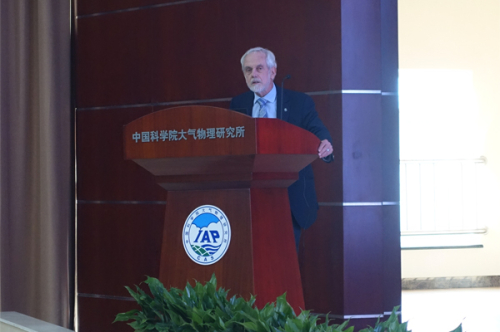 Prof. Sir Brian Hoskins is a well-known British meteorologist/climatologist. His research is in weather and climate, in particular the understanding of atmospheric motion from frontal to planetary scales. He had made major contribution to the development of atmospheric and climate dynamics. He had held many international roles including vice-chair of the Joint Scientific Committee for the World Climate Research Programme, President of the International Association of Meteorology and Atmospheric Sciences and had received a number of awards of the UK and US Meteorological Societies. He was elected foreign Members of the Chinese Academy of Sciences in 2002. In 2007, He was knighted in 2007 for his services to the environment.
Prof. Sir Brian Hoskins has been active in promoting Sino-UK bilateral scientific collaboration. In addition to this visit to IAP, he will go to Shanghai to oversee the Climate Science for Service Partnership: China (CSSP China), a research programme led by the Met Office, the China Meteorological Administration (CMA) and IAP.