On November 27 2018, Clarivate Analytics announced 2018 Highly Cited Researchers. Prof. ZHOU Tianjun from the Institute of Atmospheric Physics, Chinese Academy of Sciences was selected for this honor. This year's list included over 4000 Highly Cited Researchers in 21 fields of the sciences and social sciences, among whom 558 came from China.
Prof. ZHOU is engaged in the study of coupled atmosphere-ocean modeling and climate dynamics, air-sea interaction and monsoon variability. He has published more than 300 papers, over 200 of which were in international SCI(E) journals.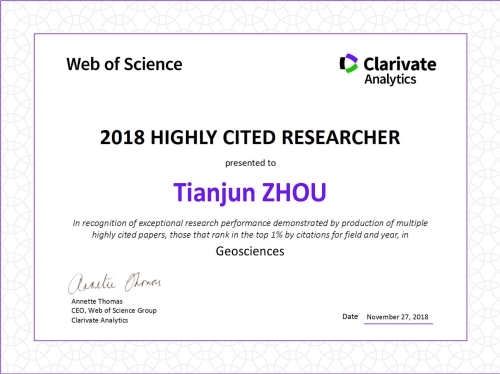 Prof. ZHOU was the co-chair of WCRP/CLIVAR Asian-Australian Monsoon Panel (AAMP) during 2013-2014, and the Lead Author of IPCC WG1 AR5, and AR6. He is a member of SPARC Scientific Steering Group, member of CLIVAR Working Group on Coupled Modeling, member of CLIVAR/GEWEX Monsoons Panel, and Member of GEWEX Data and Assessment Panel (GDAP). He is the co-chair of CMIP6 Global Monsoon Model Inter-comparison Project (GMMIP). He has served as referees and editors for many international professional journals. He received the AMS Journal of Climate Editors' Award in 2012. He is now the associated editor of Quarterly Journal of the Royal Meteorological Society (QJ), International Journal of Climatology (IJOC), Journal of Climate, Science Bulletin, and Atmospheric and Oceanic Science Letters(AOSL). He is the Advisory Editor of Oxford Research Encyclopedia of Climate Science.
Clarivate Analytics is the global leader in providing trusted insights and analytics to accelerate the pace of innovation. It has built some of the most trusted brands across the innovation lifecycle, including the Web of Science. Highly Cited Researcher selection is made on the basis of the number of highly cited papers global researchers produced over an 11-year period. 2018 Highly Cited Researcher list is based on the citations between 2006 and 2016.
More information about the list of 2018 Highly Cited Researchers: https://hcr.clarivate.com/