The Annual Meeting of the State Key Laboratory of Numerical Modelling for Atmospheric Sciences and Geophysical Fluid Dynamics (LASG), Institute of Atmospheric Physics (IAP) was held in Beijing from December 4 to 5, 2019 in Beijing.
LASG deputy director Prof. XIE Zhenghui presided over the opening ceremony. Director HOU Hongfei, Key Laboratory Division Chief of the Bureau of Frontier Sciences and Education, Chinese Academy of Sciences and Prof. LU Riyu, IAP Deputy Director, gave opening remarks.
LASG director Prof. XIAO Ziniu gave an annual work report. He outlined LASG major advances in 2019 and introduced 2020 work plan. In 2019, LASG achieved impressive progress in research, project application, team building. Academic exchange continued to be active throughout the year. In 2020, LASG will be oriented to the State Laboratory and the institute new reform situations, strengthen research, deepen opening up and transformation of science achievements, and strive for an innovation-driven development.
The scientific program consisted of 55 oral talks and 44 posters, of which 23 were invited plenary talks. The parallel sessions focused on air-sea interaction, model development, and numerical simulation. The talks brought not only up-to-date reports on frontier research questions, but also interpretation of the latest science policy.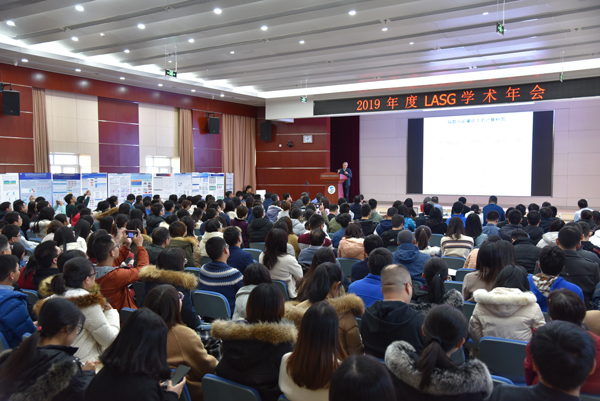 Prior to the annual meeting on December 3, LASG Open Research Program Assessment Meeting and the Second LASG Postgraduate Forum were held. Each program undertaker reported on his work in the last year. Assessment panel reviewed the implantation of each program and proposed on future work. 13 oral talks and 7 posters were presented at the forum.
Over 400 researcher and students from CAS institutes, relevant universities, affiliated departments of China Meteorological Administration, and overseas organizations attended the meeting.
The meeting was rather green in organization. Participant could easily obtain the agenda and abstract via computer and mobile phone. About 600 people joined the meeting through live broadcast.