A special issue of the journal Advances in Atmospheric Science, hosted by CAS Institute of Atmospheric Physics, provides new research on aerosol and cloud properties and their effects on radiation and precipitation. The journal's February issue features 11 articles that broadly examine this important topic, addressing one of the bigger mysteries still surrounding climate change despite years of inquiry: How do aerosols impact the climate?
"The treatment of aerosols, clouds, radiation, and precipitation in climate models has long been one of the largest sources of uncertainty in predicting any potential future climate changes," says Professor Xiquan Dong of the University of Arizona and lead editor of the special issue. "Characterizing the effects of aerosols and clouds on energy and the hydrological cycle and understanding the interactions among aerosols, clouds, radiation, and precipitation, are critical for weather forecasting and climate models."
This special issue of the Advances of Atmospheric Sciences presents findings from studies that span seasons and continents, including areas previously ignored like the Bay of Bengal and the Pearl River Delta Region of China. Farther north in Shouxian, researchers use the most comprehensive measurements of atmospheric, surface, aerosol, and cloud variables collected in China to study aerosol–cloud interactions, which have not been closely examined in the country despite its abundance of pollutant and natural aerosols.
To further close the knowledge gap, additional studies focus on cloud-base height in China and the growth of fine aerosol particles at a site near Beijing in summer. This season is also the setting in a study from tropical Africa, where the direct and indirect effects of aerosols are investigated using a regional climate model. With global climate models playing such a vital role in predicting climate change, one group of researchers look to improve the model's accuracy for future use.
Other work provides evidence that there are similarities and differences between how aerosols impact clouds over the ocean and land, and that satellites are a reliable detector of aerosol trends over land, where the aerosol and surface characteristics are more complicated and few studies have been carried out using satellites. And while there's no lack of attention given to the effects of aerosols on single cloud types, much less attention is paid to their effects on cloud ensembles, which one paper examines in a unique modeling study conducted in the US Southern Great Plains.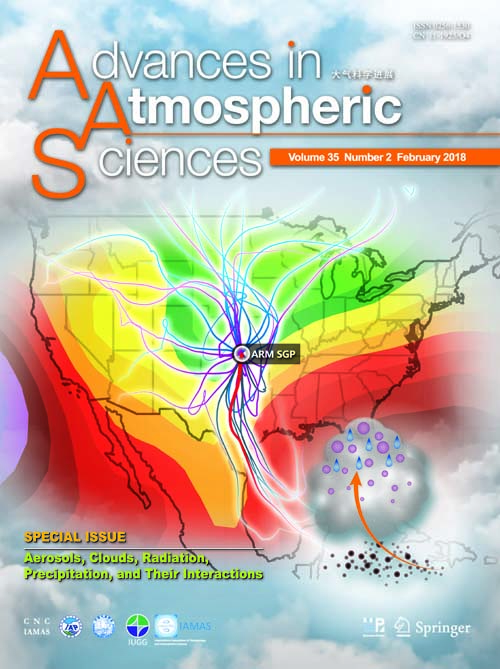 The cover of the special issue on aerosols, clouds, radiation, precipitation, and their interactions (image by Advances in Atmospheric Sciences)
The idea for the special issue came from one of the largest sessions at the 2016 Annual Meeting of the Asia Oceania Geosciences Society, which was chaired by Professor Dong. "The papers published in this special issue of Advances in Atmospheric Sciences," says Dong, "provide valuable datasets for scientists to further study aerosol and cloud properties and their effects and impacts on radiation and precipitation."