Understanding the initiation of convective storms is a very big challenge to worldwide meteorologists and forecasters. Since the convective initiation (CI) could be affected by many complicated factors ranging from large-scale forcing to local processes, it is much difficult to predict the locations and timing of CIs.
Based on their previous studies, LI Huiqi and CUI Xiaopeng from Institute of Atmospheric Physics, Chinese Academy of Sciences and their co-author Prof. Da-Lin ZHANG from University of Maryland continued to investigate the respective effects of urbanization, topography and convectively generated cold outflows on the initiation of an isolated storm near the central urban area (CUA) of the Beijing metropolitan region.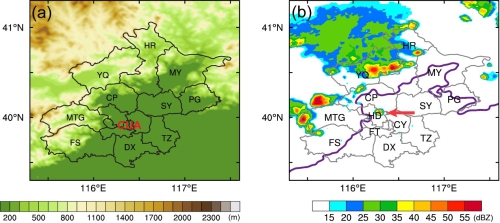 (a) Terrain height (Shadings). (b) Observed radar reflectivity at 1600 LST 9 Aug 2011. The isolated storm is highlighted by a red arrow. (Image by IAP)
Through a series of sensitivity experiments, they found that the urban environment facilitated the formation of convergence on the downstream side of the CUA as well as the development of boundary layer, accounting for the formation of early clouds. The cold outflows associated with the northern mesoscale convective system over the northern mountains promoted the northerly flows through "a northwestward-concave valley". The enhanced low-level convergence between the northerly flows and the south-to-easterly flows near the CUA determined the timing of the CI of the isolated storm.
Their findings are published in Quarterly Journal of the Royal Meteorological Society.
Reference:
Huiqi Li, Xiaopeng Cui, Da-Lin Zhang, 2017, Sensitivity of the Initiation of an Isolated Thunderstorm over the Beijing Metropolitan Region to Urbanization, Terrain Morphology and Cold outflows. Quarterly Journal of the Royal Meteorological Society, 143: 3153–3164,DOI:10.1002/qj.3169 http://onlinelibrary.wiley.com/doi/10.1002/qj.3169/abstract
Media Contact: Ms. LIN Zheng, jennylin@mail.iap.ac.cn