In summer, due to the surface sensible heating, convective activities prevail over the Tibetan Plateau (TP). Meanwhile, the latent heat of condensation released by convective precipitation can persistently heat the atmosphere, which acts as an important atmospheric heat source of the upper troposphere in the Northern Hemisphere. This atmospheric heat source can affect the circulation not only over the TP, but also over the Asian region and even throughout the Northern Hemisphere.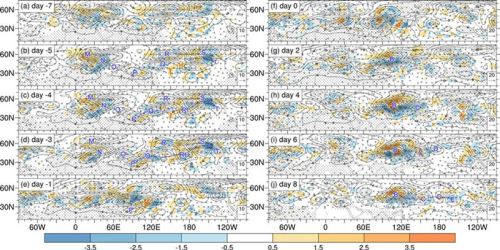 Fig. 1. Lead/lag regressions against the TP heat source index of the geopotential height anomalies (contours), wave activity flux anomalies (vectors) and wave activity flux divergence anomalies (shaded) at 200 hPa.
Under the guidance of his supervisor, doctoral candidate Chuandong Zhu, from the Institute of Atmospheric Physics, Chinese Academy of Sciences, studied the evolution and remote effects of the upper atmospheric heat source over the TP (TPUHS) in summer. He pointed out that the TPUHS has a remote influence on the circulation at mid-to-high latitudes in boreal summer, by means of inducing Rossby wave trains. Also, due to the change in the atmospheric thermal structure over the TP caused by the development of the TPUHS, the Rossby wave train during the developing period of the TPUHS differs from that during the decaying period. Therefore, their impacts on weather and climate are different too. Specifically, during the developing period of the TPUHS, corresponding to an anomalous high over the TP, a Rossby wave train propagates from the TP to the northeastern Pacific region via North China, the central Pacific and Alaska (Figs. 1c and d).
However, during the decaying period of the TPUHS, the anomalous high over the TP weakens, while the strong upper-divergence over the TP persists. Meanwhile, an anomalous high over the Baikal region develops and acts as a new Rossby wave source, which can excite a Rossby wave train that propagates downstream to the northeastern Pacific region via the northwestern Pacific and North Pacific (Figs. 1f–j). Due to the difference in Rossby wave trains with respect to their propagation path and intensity, the effects of the TPUHS on the surface air temperature and rainfall anomalies at mid-to-high latitudes of the Northern Hemisphere differ considerably during its developing/decaying period.
Reference
Zhu, C. D., R. C. Ren, and G. X. Wu, 2018: Varying Rossby wave trains from the developing to decaying period of the upper atmospheric heat source over the Tibetan Plateau in boreal summer, Adv. Atmos. Sci., 35(9), https://doi.org/10.1007/s00376-017-7231-y