As the largest developing country in the world, China has been troubled by severe haze pollution under accelerating industrialization. On June 11, 2015, the Chinese social media were flooded by photos taken by Beijing citizens of Beijing landmarks against rare blue and clear sky. As a result, the phrase "Beijing blue" was listed as one of the ten clean air keywords published by the Beijing Environmental Protection Publicity Center in 2016 and a Blue-Sky Protection Campaign was rolled out in 2018. To examine the effect of the campaign, a direct indicator needs to be developed from studying the blue days based on a long-term record. However, there is neither a clear definition for Chinese blue days, nor a quantitative attribution of its long-term trend.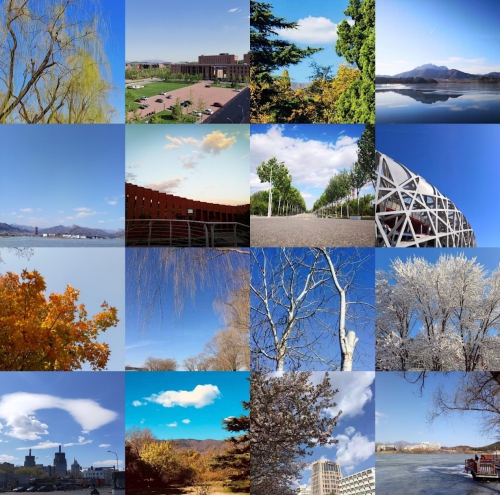 "Beijing Blue" in four seasons (Image by HUANG Gang)
A new study by Institute of Atmospheric Physics (IAP) at Chinese Academy of Sciences and Peking University recently published in Environment Research Letter defines a novel Chinese blue days index, which contains a double meanings of sunny days and clean air. The results reveal a steady incline in Chinese blue days (CBD) during 1980-2014. Three low-value centers can be found in the southeast Sichuan Basin, southern Hebei, and northeast Guangxi, with annual mean average CBD of 74, 86 and 92. The minimum/maximum trends (-7.5/9.5 d/10y) appear in Yangtze-Huai River Valley (YHRV) / southwestern China (SWC). Approximately 42% of stations show a prominent, increasing trend and approximately 23.4% of stations show a decreasing trend. The study also finds out the important relationship between blue days and wind speed, relative humidity and rain-free days. Moreover, the results show that considerable parts of the CBD trend are due to the change of atmospheric circulation in the two regions.
"Our work is innovative in that it studies the reverse side of air pollution. The study would benefit determining livable cities and national energy strategy and formulating a better energy-saving emission reduction inventory. " Said HUANG Gang, the corresponding author of the paper. Ph.D. candidate WANG Su,Associate Professors HU Kaiming, WANG Lin from IAP, Professor Lin Jintai from Peking University and other researchers contribute to the study.
Reference: Wang S., Huang G., et al 2019. Chinese Blue Days: A novel index and spatio-temporal variations. Environ. Res. Lett. https://doi.org/10.1088/1748-9326/ab29bb
Media contact: Ms. LIN Zheng, jennylin@mail.iap.ac.cn