Aerosol volatility plays a key role in affecting mass concentrations and lifetime of aerosol particles in the atmosphere, yet our knowledge of aerosol volatility in relatively polluted environment, e.g., north China remains poor.
Recently, Prof. SUN Yele and his team at Institute of Atmospheric Physics of the Chinese Academy of Sciences used a thermodenuder (TD) coupled with an Aerodyne high-resolution aerosol mass spectrometer (AMS) and a soot particle AMS to measure the aerosol volatility in Beijing during summertime. The authors found that the ambient organic aerosol (OA) comprised mainly semi-volatile organic compounds (SVOC, 63%), and the freshly oxidized secondary OA was the most volatile OA factor followed by traffic-related hydrocarbon-like OA. In contrast, the volatility of more oxidized secondary OA (SOA) was comparable to that of cooking OA.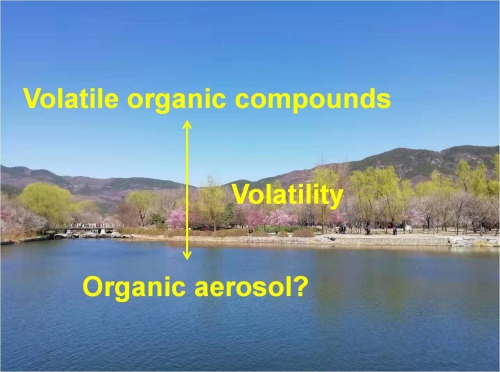 "The BC-containing primary OA (POA) was much more volatile than ambient POA, while the BC-containing SOA was much less volatile, highlighting the very different composition and properties between BC-containing and ambient aerosol particles." Said Prof. SUN.
They also found different volatility distributions of SOA between the measurements and those predicted by the WRF-Chem model suggesting that current WRF-Chem model might underestimate the fraction of low volatility compounds considerably. Therefore, their results highlight that the uncertainties in emission inventories of VOCs, semi-volatile and intermediate volatility organic compounds need to be reduced substantially to improve the model simulations of OA in the future.
The findings have recently been published in Atmospheric Chemistry and Physics.
Citations:
Xu, W., Xie, C., Karnezi, E., Zhang, Q., Wang, J., Pandis, S. N., Ge, X., Zhang, J., An, J., Wang, Q., Zhao, J., Du, W., Qiu, Y., Zhou, W., He, Y., Li, Y., Li, J., Fu, P., Wang, Z., Worsnop, D. R., and Sun, Y.: Summertime aerosol volatility measurements in Beijing, China, Atmos. Chem. Phys., 19, 10205–10216, https://doi.org/10.5194/acp-19-10205-2019, 2019.
Media contact: Ms. LIN Zheng, jennylin@mail.iap.ac.cn